As we start a New Year many of us are feeling the impact of pandemic fatigue personally and professionally, and teachers are sharing that they certainly see it with their students. It's hard for both students and teachers to stay motivated when they are over worked, have too few resources, and are struggling in their personal lives. We get it.
This week we have put together a short list of educational trends for 2022 that we think are exciting to consider integrating into your practice – even in a pandemic – but don't add to the already heavy workload educators and their students are carrying.
Read more to learn about:
The importance of Social and Emotional Learning.
The power of getting students outside.
The search for opportunities for collaborative learning.
The emphasis on promoting creativity and imagination.
The importance of Social and Emotional Learning.
As we begin to recover from recent events and the ongoing COVID-19 crisis… SEL has been central in conversations about schools' priorities…We have an opportunity in this period of disruption to reflect, listen and apply lessons learned. If we do, I'm optimistic that we can… leverage SEL to create education systems that more consistently, equitably and holistically support all educators and children.
The Collaborative for Academic, Social and Emotional Learning (CASEL) is a great resource for better understanding what Social and Emotional Learning means. 
This video is a great introduction to the framework below.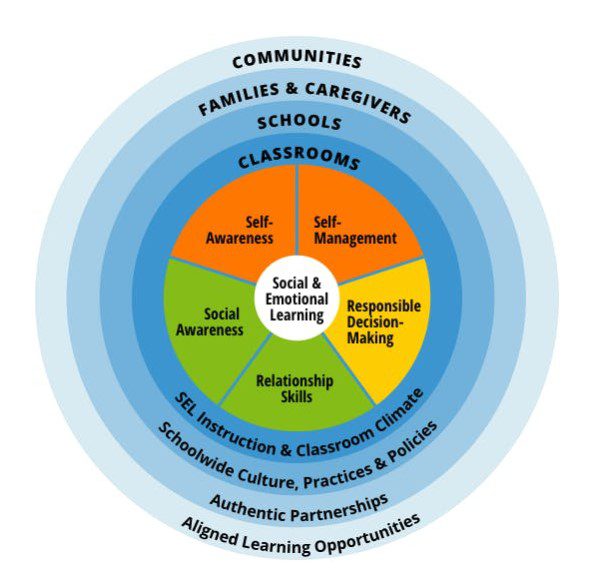 WHAT ARE THE BENEFITS OF SEL?
The benefits of integrating SEL into your practice are well researched (sel-report-2021 PDF). Here are just a few:
Improve academic outcomes and behaviours.
Lead to higher level of well-being up to 18 years later.
For every dollar invested in SEL there is an $11 return.
HOW CAN I INCORPORATE SEL INTO MY PRACTICE?
Shivohn Garcia's article "How SEL Helps You as a Teacher" has excellent concrete suggestions for your practice:
Practice Self-Awareness by creating opportunities for success.Practice Self-Management by teaching goal-setting in the classroom and providing opportunities to develop executive functioning like planning and organization.
Practice Social Awareness by asking your students' feelings and perspectives on the classroom environment.
Practice Responsible Decision-Making by seeking out diverse role models who have similar experiences as the students in your class.
Practice Relationship Skills by planning classroom activities that focus on building trust and a sense of belonging.
The power of getting students outside.
We already know that children these days spend too many hours inside and on screens.  And this problem has been exacerbated for many children by ever changing pandemic restrictions. Especially as many educators are looking at more months of online and hybrid learning, and restrictions due to COVID, it is important to be thinking about how we can safely get children off their screens and outside.
WHAT ARE THE BENEFITS OF GETTING STUDENTS OUTSIDE?
Claire McCarthy points out these six benefits:
HOW CAN I GET MY STUDENTS OUTSIDE?
Make going outside part of your regular routine – whether you are in person, on line or hybrid learning.
Don't fight kids love of technology – use it to your advantage and teach them how to use their phones to make video of photo journals of the things they see outside.
Encourage your students' families to get outside by sharing resources about the benefits and suggestions for activities they can do as a family.
The search for opportunities for collaborative learning.
As it seems more and more likely that schools are going to be switching between in person, online and hybrid learning, the need to purposefully plan opportunities for collaborative learning becomes more urgent. As Judy Willis says:
Cooperative learning opportunities aren't new learning tools, but they have never been more valuable than they are now. With less interpersonal contact and collaboration during remote learning, students spent more time in the digital world. The return to in-person classes gives us the chance for cooperative learning to guide their brains' reconstruction and boost social and emotional cue awareness.
As an educator you know that learning experiences that are active, social, engaging and student owned lead to deeper learning (and the research backs you up).
WHAT ARE THE BENEFITS OF COLLABORATIVE LEARNING?
The Center for Teaching Innovation at Cornell University outlines the following benefits of collaborative learning:
Development of higher-level thinking, oral communication, self-management, and leadership skills.
Promotion of student-faculty interaction.
Increase in student retention, self-esteem, and responsibility.
Exposure to and an increase in understanding of diverse perspectives.
Preparation for real life social and employment situations.
HOW CAN I INCORPORATE COLLABORATIVE LEARNING INTO MY PRACTICE?
Judy Willis suggests asking yourself these questions when planning for Collaborative Learning:
Is there more than one answer and more than one way to solve the problem or create the project?
Is the goal intrinsically interesting, challenging, and rewarding?
Will each group member be able to contribute in ways that will be valued and appreciated?
Will each member have opportunities to participate through their strengths?
Is participation by all members necessary for the group's goal achievement?
How will you monitor group and individual skills, learning, and progress?
Is time planned throughout the experience, not just at the end, for metacognition and revision, regarding goal progress as well as the group's interpersonal interactions?
The emphasis on creativity and imagination.
Creativity belongs everywhere, not just in childhood games and extracurriculars. It involves all of your senses and creates new knowledge that didn't exist before. Students of all ages need to learn by creating – it helps to synthesize information and bring joy and meaning into their educational experience.
WHAT ARE THE BENEFITS OF CREATIVITY?
Talk of the importance of developing creativity in education is not new. Sir Ken Robinson has been a strong advocate of this idea for almost 20 years, for example in this 2006 Ted Talk. What has changed is that research demonstrating the benefits of creativity and imagination is starting to outweigh the power standardized tests have had over teaching practice. More and more educators and parents are recognizing the important links between knowledge, creativity and the imagination, and the positive effects teaching strategies that develop creativity and the imagination have on student learning outcomes Creativity in Learning PDF.
HOW CAN I GROW CREATIVITY AND IMAGINATION IN MY PRACTICE?
Identify opportunities to explore curriculum outcomes using multi-disciplinary approaches that incorporate problem-based and hands-on learning approaches.
Teach students the skills

they need to be creative. For example teach them how to use both paper and digital journals.

Add a maker space and other imaginative materials

to your classroom.

Provide unstructured play time – even in the upper grades.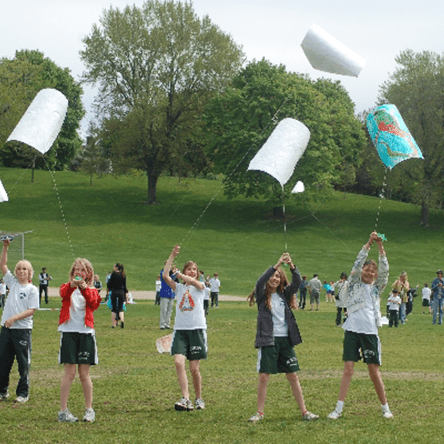 For educators looking to integrate some of this years' educational trends but don't have the time to take on complicated new projects, our Kite Kits and Guidebooks are the answer you are looking for.
In the deceptively simple activity of decorating, assembling and flying their own kite, participants of all ages and abilities will achieve a rich array of learning outcomes.
Whether you choose to do a simple Kite Activity, a Kite Day or a longer Unit, you will be amazed at everything you can achieve with our Kite Kits!