Special Events & Festivals
Bring sparkle to a memorable day
Add to the excitement of a gathering with kites everyone will love to fly
Want to make your special event unforgettable?
We can help you create a special event you and your guests will remember with joy.
Imagine a sky filled with colourful, one-of-a-kind kites – and the beaming faces of those who created them. With individual expression at the helm, no two kites will ever be the same.
Inside our Kite Kits, you'll find all of the components to make and fly a kite. All you need to do is provide the art supplies and the imagination!
Each order includes our Special Events and Festivals Guidebook with everything to you need to help you plan a spectacular event people will remember for years.

We've put a lot of thought and experience into making our Kite Kits the best available for special events and festivals. They can be assembled, decorated and ready for flight in just a few hours. Bulk discounts make these kits affordable. Plus, they are suitable for all ages and abilities, and guaranteed to fly even with very little wind.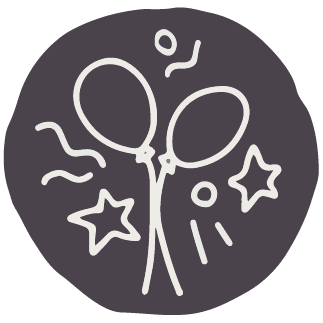 Our Kite Kits are perfect for:
Community Celebrations
Company Picnics
Corporate Events
Cultural, Arts or Music Festivals
Reunions
Weddings & Anniversaries
Imagine what kites can bring to your special event:
Provide wedding guests with a Kite Kit to decorate and fly as they wait for the special couple to return from their photo session.  A blue sky full of kites makes a stunning background for wedding photos too! 
Give every guest an original and unique Kite Kit to take home instead of the usual chocolate goodies.
Plan an original and enchanting theme for special events like a wedding or fundraiser using Kites. Our Kite Kits can be decorated to suite your colours and style and used in endless ways.
Include kite making using our Kite Kits as one of your craft tables at your school's start of the year or end of the year celebrations, Halloween or any number of special events.
Make your event stand out as something your guests will remember forever. Our Kite Kits are a crowd pleaser at community events like Canada Day or Fourth of July, municipal celebrations or even company picnics.
Ready to explore the possibilities?
Check out our Special Events Guide. It includes an over all event planning checklist, a step-by-step guide on how to run your event, and of course many suggestions for how to use our Kite Kits to celebrate your special event.
With over 10 years of event planning experience we are ready to work with you to help make your vision come true. Contact us and make your special event a day to remember!
"We loved this project. It was super and we would like to try it again. The designs the kids came up with were great and it was a wonderful end of the year project."
Nancy Johnson & Robin Wormser
Third Grade teachers, Williams Elementary, MI